About Our Club
Twin City Polo Club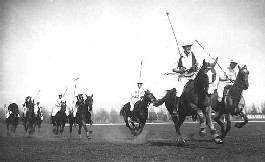 The summer of 2023 will mark the 59th season of polo at Twin City Polo Club. Polo itself has been played in Minnesota for over seventy years, first at Fort Snelling in the 1920s by the U.S. Army, then continuing at the Meadow Lake Polo Club in Wayzata, MN.
This was followed by a stint at the Eagle Ridge Polo Club near Shakopee, MN and finally brought to our current home fields of West End Farm in 1964 forming what is still known today as the Twin City Polo Club in Maple Plain, MN.
Surprisingly, since then, very little has changed at Twin City Polo Club. Sure, some inevitable modifications have come with the times. The trucks and trailers have gotten a bit fancier and the junior players of the past have grown up to become the adult leaders of our club today. For the most part, though, the things that are nearest and dearest to the hearts of us mid-western polo players have stayed the same: Getting together with good friends on a sunny Minnesota summer day, the immense respect and gratitude that we give [and that they demand] to a thousand pound animal running at 30 mph, and the love of chasing a little white ball around a field.